Out of an abundance of caution for our most vulnerable cancer kiddos, our group, land fishing events were suspended through the worst of the pandemic. We are so happy to report that we are bringing them back! In the interim, we were able to use generous donations to send one family at a time out on the water with a captain for a half day, inshore fishing excursion! What a thrill and a blessing for so many families to go out on the bay, many for the first time ever, and reel in redfish, trout, snook and even a few grouper! Many, many thanks to the generous captains that accepted reduced fees and worked themselves to the bone to be sure these families found their fishing relief. Soon, we will be listing these captains on our website and how to contact them for you all to book your trips with these amazing, generous captains.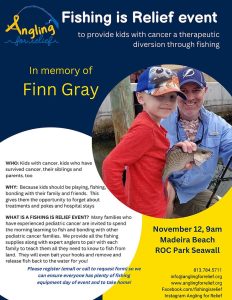 On January 21, 2020, Finn Gray, 6 years old, left this earthly world after a brave battle with Ewings Sarcoma. Finn was the first child Jake (Angling for Relief founder, 12 years old) "fished" with in the hospital. The first child to receive the Dry Fishing kit.
Finn will be honored at the November 12, Fishing is Relief event. We invite pediatric cancer families to join us in a morning of fishing, bonding with one another, and honoring sweet Finn. Registration for families is on our website. Volunteers for the event are also needed and the link to register is also on our website.
Finally, your donations are very much appreciated and needed. $45 provides a dry fishing kit for a child, $450 provides a family a half day of inshore fishing with a captain. 100% of donations support the families directly.
Thank you for your support of fishing therapy for kids fighting cancer. It makes a difference in their day!